Welcome to MuellerMed Health Center – Here When You Need Us Most
MuellerMed Health Center offers personalized, compassionate and quality healthcare to patients of all ages in our full-service facility.
We have a board-certified general practitioner who is also a certified expert in holistic methodology, a certified and highly experienced alternative practitioner and a board-certified doctor's assistant, which bring a high level of experience and overall professionalism to our clinic.
Our team will take the time to address your concerns and explain each option for your healthcare, treating you as an individual, not just a patient.
MuellerMed Health Center is the leading primary care clinic in the Montreux area combining the strenghts of Traditional Chinese Medicine, Biological Medicine & General Medicine in order to diagnose and treat every person with the best individual treatment plan possible, as well as focusing on the specific needs of men, women & children's health.
In addition, at MuellerMed Health Center we provide preventative health care services and screenings, as well as expert chronic disease management.
During the week, Monday through Friday, we are often able to accommodate same-day appointments. Thursday, Saturday & Sunday the clinic is closed due to home visits by the doctor.
Independently and locally owned, MuellerMed Health Center and its friendly staff are always willing to go the extra mile to treat each patient with kindness and compassion. Many of our patients and their entire families have trusted us with their healthcare for over 18 years.
Our comprehensive services include:
– Primary care
– Traditional Chinese Medicine
– Biological Medicine
– Preventative care
At MuellerMed Health Center, we are here when you need us. For an appointment, call +41 (0)21 963 2301 or simply request an appointment online by clicking on the button below.
Our Mission
"To improve the health of those we serve with a commitment to excellence in all that we do. Our goal is to offer quality care that exceeds patients' expectations, and we provide this in an accessible, caring, convenient, and cost-effective manner."
What We Do Best
"Every mountain top is within reach if you just keep climbing."
— Richard James Molloy
Why choose MuellerMed?
We provide superior health care and medical excellence which can be attributed to the extensive international experience and holistic methodology of Dr. med. Virgil M. Mueller.

MuellerMed therapy programs educate you on what is occurring within your body regarding the history of your problem and what is required for expedient healing and enduring wellness.

We provide education on how to prevent the recurrence of your complain once a complain free state is reached.

We are very straightforward and to the point about getting you in and out of therapy.

Our primary interests are to keep you healthy and in a good, powerful condition at all times.

Should you come in sick, we strive to produce swift recovery and results to get you back to your life in the most healthy and convenient manner.

Our physician thoroughly analyzes the body as a whole while taking into account all factors internal and external in relation to the root of the problem.

This includes the patient's state of mind and emotional effects related to his/her issues.

We are clear that one area of your body influences every other each moment and that your psychological and emotional state are connected to your physical symptoms.

In other words, we take into account many more health factors than just the physical level. We also lay importance on the mental, emotional, causal and spiritual levels.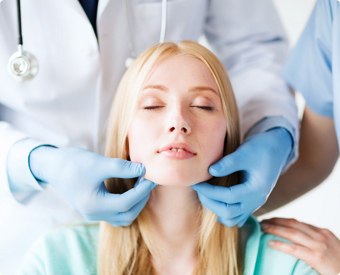 MuellerMed offers a very relaxed and loving environment. Though we provide professional services, we're not a stuffy hospital.
You won't find florescent lights or green scrubs here!
Rather, ours is a soft environment conducive to healing; a warm and welcoming space where everyone entering immediately feels comfortable enough to relax in order to begin healing.
These are just some of the reasons that draw people to our center.
If you have any questions about our clinic, please don't hesitate to call us.
Find out how other people have solved their health issues at MuellerMed.
Come in to MuellerMed for healing, wellness, and confidence while creating a healthy future for your self.
Meet Our Team
"MedicalDoctor"

Dr. med. Virgil M. Mueller



    32 years experience

"There are more than one thousand diseases, but there is only one health." Curriculum Vitae →

"AlternativePractitioner"

Christine Mueller



    28 years experience

"Health is not everything, but without health, everything is nothing." Curriculum Vitae →
Medical Services